SECURITY
Customs-Trade Partnership Against Terrorism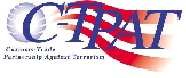 Sanders Brokerage Services – CTPAT Certified:
Since June of 2003 Sanders Brokerage Services has been a proud partner in our nation's security CTPAT program. We encourage your participation in our nation's security programs. Our certification number is SVI-SANBRO002539. We offer the following information business links to our business partners for their convenience, resource and information purposes.
We strongly encourage your participation in this valuable initiative.

Container Security Procedures and Guidelines:
Additionally we provide you the following important initiative downloadable documents.
17 Points: This document provides the CTPAT 17 point trailer examination protocol.
Container and Seal Inspection: This document provides the CTPAT container/seal protocol process.
C-TPAT Minimum Security Criteria and Guidelines: Provides the Minimum CTPAT Security Criteria

Reporting Suspicious Activities, Anomalies, and Security Breaches:
The Customs-Trade Partnership Against Terrorism (CTPAT) program is one layer in U.S. Customs and Border Protection's (CBP) multi-layered cargo enforcement strategy. Through this program, CBP has successfully worked with the trade community to strengthen international supply chains and improve U.S. border security. An integral part of this partnership entails CBP's and the trade community's willingness to share information about potential threats to, and security breaches within, international supply chains.
… continuation of this document is supplied here: C-TPAT-Reporting-Suspicious-Activities-Anomalies-and-Security-Breaches